Orlagh House, The Orlagh Estate, Gunny Hill, Dublin
Orlagh House has a fabled history. It was built in 1790 by Dublin snuff merchant Lundy Foot, and was originally called "Footmount". It would not be renamed Orlagh until it's third owner came to possess it.
Frequent visitors included the Great Emancipator, Daniel O'Connell, Eoin O'Neill, Padraig Pearse and William Smith O'Brian, among many other famous figures from Anglo-Irish history.
It most recently changed hands in March 2017 and is currently being refurbished to be used as a private events and arts venue with guest accommodation.
It was until recently owned by the Augustinian Religious Order and used as a Novitate and spiritual retreat. The estate and the house have panoramic views of Dublin city, the Irish Sea and Howth Head. The walled estate comprise some 45 acres including forestry and trails and is close to both the infamous Hellfire Club, which is on the top of Montpellier Hill and St. Colmcille's Well at the entrance on Killakee Road. Another important adjacent landmark is the ruins of Carthy's Castle which are just to the west of the grounds.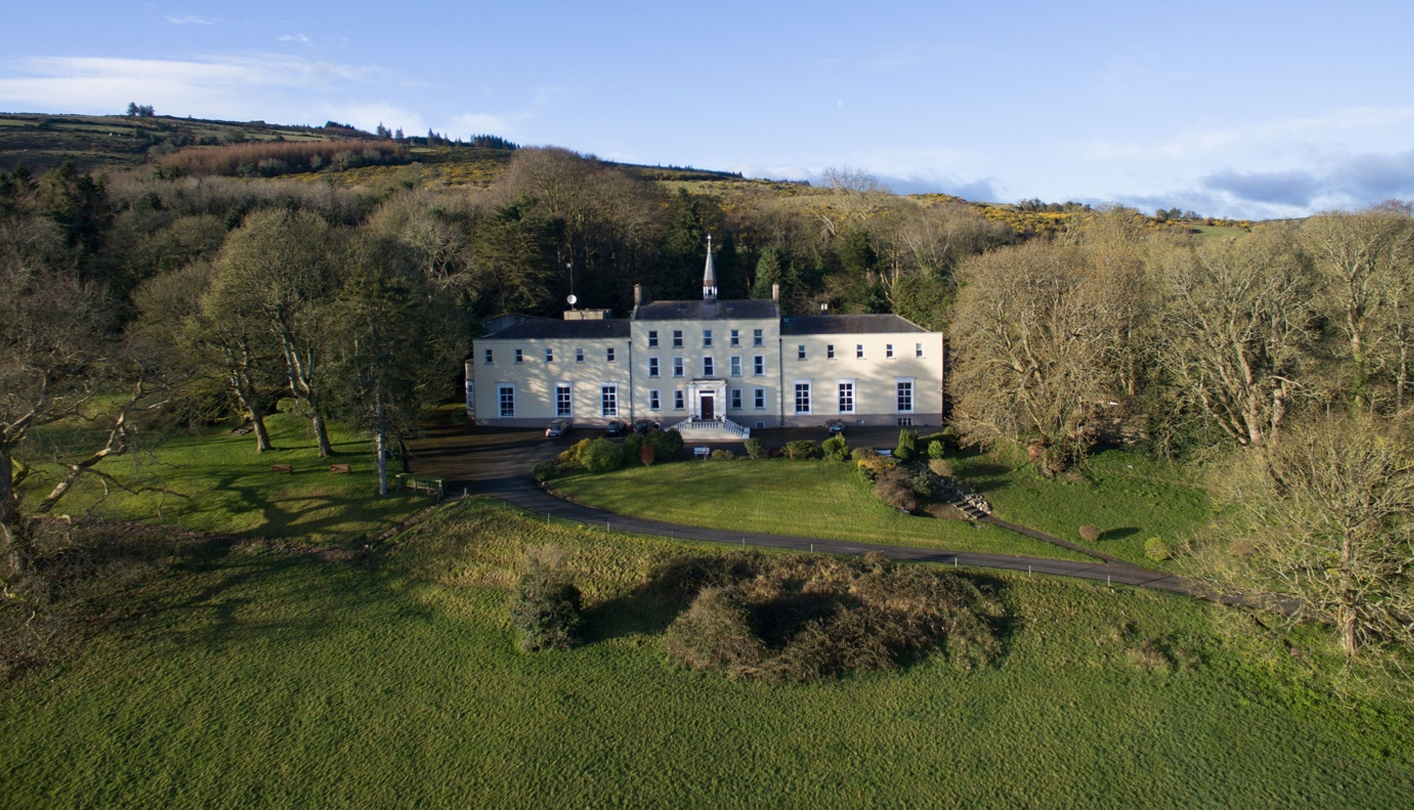 The original owner, Lundy Foot, was head of the celebrated firm of Lundy Foot & Company, well known snuff and tobacco merchants of Essex Street and Westmoreland Street. At the time Lundy Foot was said to be more famous than Arthur Guinness, and the company eventually was acquired by what we now know as Carroll's cigarettes today. There still exists a commercial snuff available today known as Lundy Foot.
Read more...
Lundy Foot's eldest son (also called Lundy) was called to the Bar in 1788 at the age of 24, and in 1816 became involved in the trial and subsequent conviction of three members of the Kearney Family. The Kearneys, (father Peter and two sons, Joe and Billy), were arrested for conspiracy to murder John Kinlan, a steward of Ponsonby Shaw. Kinlan's body was not found at the time, and was not uncovered until a new sand-pit was being opened in nearby Tallaght in 1933. The Kearneys had however been heard to threaten Kinlan on a number of occasions and, following the discovery of a blood-stained hatchet with hairs matching Kinlan's, their fate was sealed. They were brought from Kilmainham Jail and hanged in a field beside the River Dodder at Old Bawn.
Foot was an acquaintance of John Philpot Curran (24 July 1750 – 14 October 1817). Curran was an Irish orator, politician, wit, duellist, lawyer and judge, who held the office of Master of the Rolls in Ireland. Started in 1780, his drinking club The Order of St. Patrick also included Catholic members along with liberal lawyers (who then had to be Protestant). The Club members were called The Monks of the Screw, as they appreciated wine and corkscrews. Curran was its Prior and consequently named his Rathfarnham home "The Priory". His youngest daughter Sarah's romance with the rebel Robert Emmet, who was hanged for treason in 1803 has been immortalised as a tragic love story. Both of their names are celebrated on many modern Dublin place names and a number in the local vicinity such as Sarah Curran Avenue at St Enda's Park.
Irish Poet, Thomas Moore (1779-1852) recalled this tragic love story in one of his many fine poems:-
She is far from the land where her young hero sleeps, And lovers around her are sighing, But coldly she turns from their gaze, and weeps, For her heart in his grave is lying.
Lundy Foot, once asked Curran to suggest a Latin motto for his coach.
"I have just hit on it!", exclaimed Curran. "It is only two words, and it will explain your profession, your elevation, and your contempt for the people's ridicule; it has the advantage of being in two languages, Latin and English, just as the reader chooses… Put up "Quid Rides" upon your carriage!"
(A quid was a lump of tobacco to be chewed, and also slang for a sovereign (£1). "Rides" is Irish slang for being physically intimate with someone, whereas in Latin, the entire phrase "Quid rides" means "so you may laugh").
Other witticisms from Philpott include:-
Judge (whose wig was awry); "Curran, do you see anything ridiculous in this wig?" Curran: "Nothing but the head, my lord!"
A prosecutor, infuriated by Curran's insults, threatened to put him in his pocket. "If you do that," replied Curran, "you will have more law in your pocket than you ever had in your head."
In debate with John Fitzgibbon, 1st Earl of Clare, Fitzgibbon rebutted one of Curran's arguments by saying "If that be the law, Mr. Curran, I shall burn all my law books." To which he replied "You had better read them first, my lord."
On another occasion Fitzgibbon objected that Curran was splitting hairs- surely the words "also" and "likewise" have exactly the same meaning? "Hardly, my Lord". Curran replied. "I remember when the great Lord Lifford presided over this Court. You also preside here, but you certainly do not preside likewise".
Foot eventually sold Footmount, as it was called at the time, to Nathaniel Caldwell and moved to Co. Kilkenny where he purchased Rosbercon Castle near New Ross. Caldwell, who was governor of the Bank of Ireland from 1866 to 1868 and a director from 1847 to 1890, sold Orlagh to Andrew Carew O'Dwyer in 1836. It is not clear exactly when the name of the house was altered but it was probably during O'Dwyer's time. The name Orlagh has been interpreted as 'hill of gold' and also as 'an inch'.
It was during O'Dwyer's tenure that changes were also made to the original building. To the east side a new wing as added with a large banqueting hall having tapestries from Marie Antoinette's room at the Tuileries. When Louis Philippe altered the Tuileries apartments, the tapestry was put on sale and purchased by O'Dwyer. O'Dwyer was a great friend of Daniel O'Connell, The Great Liberator, and arguably the greatest Irishman of all time. O'Connell was entertained there on a number of occasions, and witnessed the signing of the land deed of Orlagh.
Among other famous visitors to Orlagh as well as Daniel O'Connell were Irish patriots Patrick and William Pearse. Eoin McNeill of 1916 fame was given refuge and slept there for the first few days of the Easter Rising. It was said that from the steps of Orlagh he witnessed the British gun boats enter the Liffey.
The drawing room has an ornate ceiling figuring bunches of grapes with vine leaves executed by the famous artificer of hand painting, Cesar. O'Dwyer also added a small Gothic chapel displaying rare specimens of fifteenth and sixteenth-century glass. O'Dwyer was responsible for the landscaping of the grounds and had the stream which passes through them incorporated into an oval pond.
O'Dwyer leased Orlagh to a wealthy Scottish family named Brodie and on the death of the head of this family it was sold to the Augustinian Order on 16th July 1872 and occupied by them continuously ever since. This acquisition fulfilled a long desired wish for a Novitiate for the Irish Province, as prior to this time it had been found necessary to send the young priests to Rome and from 1863 onwards to Ghent in Belgium. This latter closed down following the purchase of Orlagh. Upper stories were added to the centre wing of the house in 1872/3 to provide room for the novices and a new wing was added in 1887, containing the present Oratory with its impressive choir stalls.
The Augustinians used the house for various uses throughout the years, but eventually put it up for sale. It was acquired by a group of investors in March 2017 and is now a private venue.
---
Orlagh was built around the same time as three other local landmarks: The Hermitage (1786) which is now the the Pearse Museum in St Enda's Park; Hollypark (1774) now known as St. Columba's College; and Marlay Park House (1750) which was remodelled in 1794.
St. Columba's College
St Columba's College is now recognised as Ireland's most expensive and exclusive Boarding School. It is a co-educational boarding and day school founded in 1843 elsewhere but relocated to Whitechurch, County Dublin, Ireland. Among the founders of the college were Viscount Adare (who later became The 3rd Earl of Dunraven and Mount-Earl in 1850), William Monsell (who was later created The 1st Baron Emly in 1874), Dr William Sewell and James Henthorn Todd. The house was built by Jeffrey Foot, brother to Lundy Foot of Orlagh House. The school is affiliated with the Church of Ireland and caters to 300+ pupils, aged 11 to 18. Alumni are organized in the Old Columban Society. Its campus consists of 140 acres (0.6 km2) on the edge of Dublin and the M50 motorway.
The Sunday Independent newspaper has identified it as the most expensive school in Ireland.
Montpelier House (1763) was built as hunting residence for Henry Loftus, the Earl of Ely. It was originally called Dollymount but unfortunately no longer stands.
The ruins of The Priory (c1780) are still visible in the Hermitage Housing Estate close to both St Enda's Park and Marlay Park.
Killakee House was owned by Lord Massey. The property was demolished in 1941 and was located in what is now known as masses woods in close proximity to the Hellfire Club.
Danesmoate House is another Georgian mansion in the immediate vicinity. It was built in the mid 18th century by the Southwell family. William Southwell (1669 – 1720) was an Irish politician and British Army officer. He was the third son of Richard Southwell of Castle Matrix, Co. Limerick, and his wife Lady Elizabeth O'Brien, daughter of Murrough O'Brien, 1st Earl of Inchiquin. During the Glorious Revolution of 1689, he and his brother were attainted by the parliament of King James II of England.
Southwell entered the British Army under King William III of England in 1693. During the Nine Years' War, he was wounded at the 2nd Siege of Namur in 1695 and was afterwards promoted to captain. In the War of the Spanish Succession, he took part in the Battle of Cádiz and Battle of Vigo Bay as major of the 6th Foot in 1702. He was promoted to lieutenant-colonel a year later. Southwell commanded four hundred grenadiers in the 1st Siege of Barcelona in 1705 and was made colonel of the 6th Regiment of Foot the following year. He sold his colonelcy to Thomas Harrison in 1708 and was appointed captain of the Battleaxe Guards in 1714, protecting the Lord Lieutenant of Ireland. He was elected to the Irish House of Commons for Kinsale in 1703, representing the constituency until 1713. Subsequently, Southwell sat for Castlemartyr until 1715 and then for Baltimore until his death in 1720.
The property has been the residence of U2 basis Adam Clayton since the 1980's.
Brehon's Chair
Brehon's Chair (also known as Taylor's Grange) is a sacred megalithic site in Rathfarnham. It is a national heritage site. The Grange Road is named after it. The Brehon Laws were statutes that governed everyday life and politics in Ireland until the Norman invasion of 1171 (the word "Brehon" is an Anglicisation of breitheamh (earlier brithem), the Irish word for a judge). The laws were written in the Old Irish period (ca. 600 – 900 AD) and probably reflect the traditional laws of pre-Christian Ireland. These secular laws existed in parallel with, and sometimes in conflict with, Canon law throughout the early Christian period.
The monument comprises three 8.5 metre granite stones in the shape of a chair. The Brehon's Chair is believed to have been the seat of Judgement of the Archdruid. When the settlement around the chair was excavated, flint tools were among the artefacts found there. This stone passage tomb is often misunderstood to have been a chair, as is often told in local history. However, excavations have found it to have been a passage tomb similar to that of Newgrange found in Boyne Valley. The two side stones were a basic door frame with the rear stone being the door or portal stone. These remaining features of the tomb entrance now give the impression of a large seat. Similar to the UNESCO World Heritage Site at Newgrange, the Brehon's Chair passage tomb was once a place of astrological, spiritual, religious and ceremonial importance. Despite the proximity to the M50 motorway and nearby housing, the dolmen door of the tomb entrance maintains its uninterrupted line of view, south towards the Dublin mountains. As one of the largest passage tombs in Ireland, the Brehon's Chair remained a landmark for the inhabitants of the area throughout the prehistoric and early historic period.
St. Columcille's Well
A small walk along a pathway leading across a bridge over a stream, will bring you to this ancient well nestled in the trees. It is known locally as St Colmcille's Holy Well, but obviously the well was here long before Christianity. Local tradition states that Colmcille stopped here to quench his thirst during one of his many journeys throughout Ireland and subsequently blessed the well. The shrine which now stands over the well was added in the early part of the 20th century. A poem marks the fascination with this pilgrimage site.
As I went out from Dublin To climb mount Pelier Hill To Killakee and Fetherbed and up the mountain still My thoughts were scare a penny-worth Until I chanced to see The name of dear Saint Columcille Bright-lettered on a tree A rugged stile, a rustic bridge Soon added to the spell They led me to a lovely Shrine Beside a holy Well A statue of the Saint is there He looks so young and sweet In robe of white, with script and staff And sandals on his feet In olden times, in golden times I hear the waters say Saint Columcille from Tolka side Came wandering up this way O bless the Lord, bright noon-day sun Fair land and shining sea Clear springing water happy stream Come, praise His name with me And so the memory that we keep The story that we tell The Saint, the blessing and the prayer Beside his holy well
I have never yet heard of a murderer who was not afraid of a ghost
– John Philpott Curran